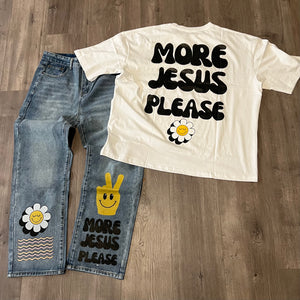 NOT YOUR AVERAGE CHRISTIAN CLOTHING.
Welcome to The Fashion Of The Christ, where faith meets unparalleled craftsmanship and exquisite design. We transcend the ordinary, redefining Christian fashion with a commitment to uncompromising quality that sets us apart from all others. Our garments are not just articles of clothing; they are meticulously crafted expressions of devotion, embodying the essence of faith and sophistication. While we may be priced higher than other Christian brands, it is an investment in distinction and excellence. Each piece is a testament to our dedication to providing you with not only apparel but an elevated experience – a fusion of faith, fashion, and finesse. Join us in a journey where spirituality meets style, and indulge in the luxury of divine elegance that only TFOTC can offer. Elevate your wardrobe, elevate your spirit.
Subscribe to our newsletter
Promotions, new products and sales. Directly to your inbox.
PLEASE READ OUR FAQ
SHIPPING & PROCESSING
Good Products aren't Cheap and Cheap Products aren't Good. Due to the extremely High Quality of our SZN2 Collection we do not hold inventory. Each product is hand crafted and specfically made to order for every purchase. It takes a little more time to deliver the quality we are giving our customers but more than worth the wait.
We process and ship Monday-Friday. For shipping please allow 14-21 business days. During holidays or times of high demand, orders will take 21 or more business days for your package to be processed and shipped. Orders placed on the weekend and holidays are processed on the next business day.
WHAT SHIPPING METHOD DO YOU USE?
Standard shipping for orders in the United States are shipped via USPS First Class or Priority Mail. International orders are shipped via USPS First Class International Mail.
EXCHANGE AND REFUNDS
All items purchased are final sale, however we can offer returns, exchanges, or refunds for certain items.
DAMAGED/DEFECTIVE SHIRTS
If you receive a damaged or defective item, email us at TFOTCCLOTHING@GMAIL.COM within 7 days of receiving your shirt and we will gladly replace the item. Please include your order number, name and email used on the order. Defective items will be exchanged for the same type of product in the same size. Please contact us for further information. 
LOST OR STOLEN ORDERS
The Fashion Of The Christ is not responsible for lost or stolen packages. 
I FORGOT TO USE MY DISCOUNT CODE
Unfortunately, our software does not allow us to adjust prices to finalized purchases. Once your order has been confirmed, it's not possible for you, or us, to change it once submitted. Please ensure all your information is accurate before submitting your order, including your discount code. 
Only ONE discount code may be applied per order.
This applies to Free Shipping discount codes.
WHAT SIZE SHOULD I ORDER?
All TFOTC shirts are UNISEX sizing. Our sizes range from XS - 3XL. These are unisex (mens) tees. Women should order one size DOWN from their regular size.
When Ordering TFOTC tees and looking for an oversized fit please order one size UP from your regular size.
All TFOTC Joggers are slim cut so if you are looking for a more loose/relaxed fit please order one size UP from your regular size.